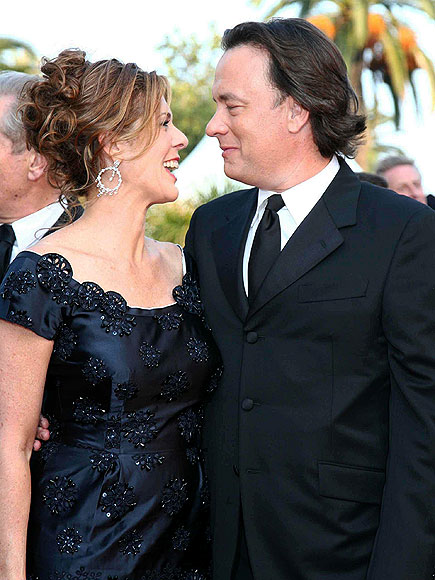 With Kim Kardashian and Kris Humphries announcing their split, as well as Zoeey Deschanel and Ben Gibbons, and Jennifer Lopez and Marc Anthony, and with rumours flying about Ashton Kutcher and Demi Moore, and Will Smith and Jada Pinkett Smith, Creative Couples is looking at a historical couple who has shown that work, life, love, and loyalty is possible: Tom Hanks and Rita Wilson.  This Hollywood couple has been married for 23 years, working together, raising a family together, and travelling together.  They have found the perfect work-love-life balance, and have worked to protect that balance, their relationship, and their family, from the destructive nature of the press.
Tom Hanks and Rita Wilson met in 1984 on the set of Volunteers.  Tom grew up with a deep feeling of loneliness.  His father frequently uprooted the family, and they moved about from stepfamily to stepfamily.  Rita on the other hand, was raised in a nurturing, nuclear family which helped to keep her grounded.  When they met in 1984, Tom was immediately drawn to Rita's warm and stable personality.  The pair grew fond of each other, however Tom was already married to his college sweetheart, and Rita was engaged.
In 1987, Tom and his wife divorced.  Tom's relationship with Rita grew and the two quickly fell in love.  Rita reported to Vanity Fair, "I didn't know what being in love was until I met Tom." while Tom returned the sentiment, stating "It was a complete and utter kind of acceptance of me on her part.  It was a love that was unconditional."  The pair were married on April 30, 1988.
This Hollywood couple has shown that they have staying power.  They've remained together 23 years because they have learned to balance their work, their life, and their love.  They have appeared in a few films together, including Volunteers, Sleepless in Seattle, and That Thing You Do.  They have also co-produced a number of films together, perhaps most notably My Big Fat Greek Wedding.  Rita is also a singer, and has announced she will be releasing her first album in February 2012.  She and Tom have two children together, while Tom also has two older children.  They all enjoy spending time together as a family on Caribbean cruises and European sight-seeing trips, and also just hanging out in their West L.A. home.  They truly cherish their family, and their relationship with each other, and have kept their private life private.  Their secret to success? "They are madly in love."
Sources: People, CNN: The Marquee Blog,  SheKnows